Drive fermier 53 ® - Food shop - Changé
Drive fermier 53 ®
Food shop , Local produce
at Changé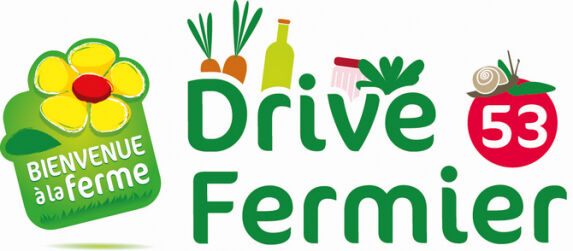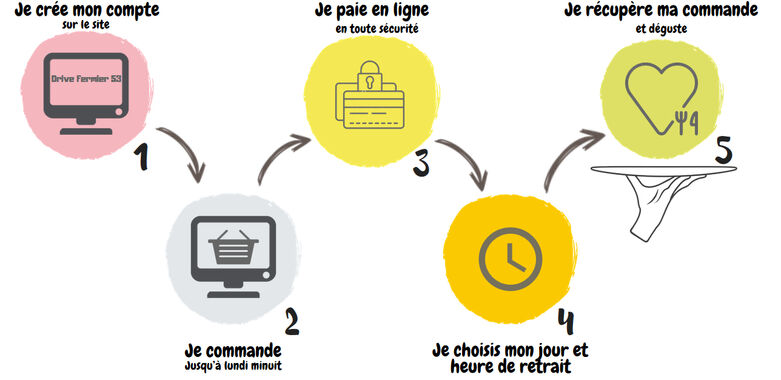 100% farmer products We are 19 producers, members of the Bienvenue à la ferme network, selling products from our farms for direct sales and short circuits. We have created an association 'Drive Farmer 53' to collectively manage this online store where you can buy one or more products from different farms at one time. To consume local and quality with ease The Farmer Drive 53, what is it? Well, it is an association composed of about twenty local producers mainly from the department of Mayenne, but also of bordering departments (Ille-et-Vilaine and Maine-et-Loire). In any case, the products are within 80 km of you! Our approach is supported by the Chamber of Agriculture of Mayenne, which allows our coordinator Linda, to work on its premises. It is with her that you are in contact by phone or email. By ordering on the Farmer Drive 53 you buy quality products while supporting local agriculture. Here you will not find strawberries in winter, avocado, oranges or salmon from Norway ... Orders are made until Monday night midnight for a withdrawal on Thursday between 16:30 and 19:30 or on Friday between 12:00 and 2:00 p.m.. When recovering products you will be in direct contact with the producer. You can ask him for advice, know the next arrivals or tell him about your desires. The producers want to be in direct contact with you and limit the intermediaries, you the people who live the local agriculture.

All our farms practice a "farm" agriculture: they are small, the methods of production and processing meet the requirements of the farmer's name and the specifications Welcome to the farm. Examples: outdoor poultry, fattening time of animals, strain of slow-growing animals, maximum desired food self-sufficiency and required ground connection .... We are spread throughout the department and come to your meeting twice a week in Laval on Thursday afternoon or Friday lunch at the place of withdrawal. - Jean-Claude BERNIER, L'Aventura MARCILLÉ-LA-VILLE (snails) - Marie and Fabien BOURNY, Cornesse LA BRULATTE (cider products and organic Limousin beef) - Laëtitia and Jérôme PIRON, La Corbinière SOULGÉ-SUR-OUETTE (pork ) - Brice MARSOLLIER, 3 rue des vignes RENAZÉ (vegetables, horticultural plants, plants) - Isabelle and Guillaume MEIGNAN, The Logis du Plessis MARIGNÉ-PEUTON (poultry and eggs) - Claudine and Jean-Pierre MORICEAU, La Janvrie LA ROUAUDIERE (pork ) - Isabelle and Hervé ROYER, Montigné QUELAINES-SAINT-GAULT (foie gras) - Emmanuel VIOT, Ménardière BEAULIEU-SUR-OUDON (apples, pears) - Thierry COCANDEAU, Simonière COURBEVEILLE (honey) - Charlotte and Alex MORIARTY, La Guéjardière RUILLE FROIDS FONDS (ORGANIC lamb) - Pierre-Yves HOUDAYER, The GREZ-EN-BOUERE Boulonnière (vegetables) - Sylvie and Jean-Luc HUNEAU, The OLIVET Mare (Limousin beef) - Marc SABIN, Les Epiés BONCHAMP-LES- LAVAL (cheeses) - Sylvia GOISBAULT, Farm of the Mancellière L'HUISSER IE (cut poultry) - Catherine and Pierre-Marie GRELLIER, Domaine de Montplaisir CHALONNES ON LOIRE (wine) - Caroline LOYSANCE, Le Peras LARCHAMP (goat cheese) - Daniel BROCHARD, La Pironnaie LA BAZOUGE DE CHEMERE (Parthenese beef) - Roselyne and Guénael HERVE, Les Orgeries ST MICHEL DE LA ROE (oils and flours) - Family LEMESLE, the new house ARGENTRE DU PLESSIS (bread and brioche BIO). You can find us on the website www.bienvenue-a-la-ferme.com/pays-de-la-loire and on our farms!
Leave a review about Drive Fermier 53 ® :
Bad

Average

Good

Very good

Excellent
There is no review about Drive Fermier 53 ®, be the first to leave one !