Changé Ô Jardin #Automne - Nature and relaxation - Changé
Changé Ô Jardin #Automne
Nature and relaxation , Local event at Changé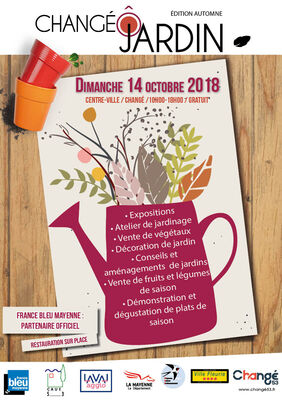 La ville de Changé organise une nouvelle saison de Changé ô Jardin, édition automne, le dimanche 14 octobre 2018 de 10h00 à 18h00, dans le centre-ville.
Toute la journée, le public découvrira de nombreuses animations autour du jardin au naturel.
Au programme :
Expositions
• La biodiversité en Mayenne (CD53)
• Les arbres remarquables de la Mayenne (CAUE53)
• Le jardin nature (Musée des sciences)
Ateliers et animations
• Atelier de jardinage animé par le Service Espaces Verts de la Ville.
• Atelier de création de nichoirs (CPIE Mayenne Bas-Maine).
Enfants accompagnés. Places limitées sur inscription auprès de la mairie.
• Jeux en bois surdimensionnés (Ludothèque de Changé)
• Vente de gâteaux et maquillage pour enfants (Les Changeannais - autofinancement projet de jeunes)
Présentations pédagogiques
• Le paillage et le compostage (Laval Agglomération)
• Les graines et leur transport (Laval Agglomération)
• L'apiculture (Syndicat Apicole de la Mayenne)
• Politique développement durable de la ville (Mairie de Changé)
Marchés
• Vente de fruits et de légumes de saison (Jardins Familiaux de Changé/Les Vergers du Haut bourg)
• Vente de végétaux (Ets Horticoles JF Le Ray/Pépinières Renault)
• Vente d'herbes aromatiques et médicinales séchées (Futur Simples)
Conseils en aménagement de jardin
• Clément Aménag' Paysage
• Niwaya (paysagiste japonais)
Décoration et matériel de jardin
• Les paniers Hérisset (Vannerie)
Petite restauration sur place (Jardins Familiaux)
Toute la journée, Pascal Fouchet animera l'évènement.
De même, Marie Chiff'Mine proposera ses chansons et comptines aux visiteurs.
En cette période automnale, ne manquez pas ce rendez-vous incontournable pour tous les amoureux du jardin, amateurs ou confirmés.
France Bleu Mayenne : partenaire officiel
Gratuit. Renseignements au 02 43 53 20 82.
Programme et exposants susceptibles d'évoluer au fil du temps.
Schedules

On

October 14, 2018

from 10:00 to 18:00
Leave a review about Changé Ô Jardin #automne :
Horrible

Bad

Average

Good

Excellent
There is no review about Changé Ô Jardin #automne, be the first to leave one !