Connaissance du monde : La Perse - Laval
Connaissance du monde : La Perse
Cultural , Lecture , Festival , Cinema at Laval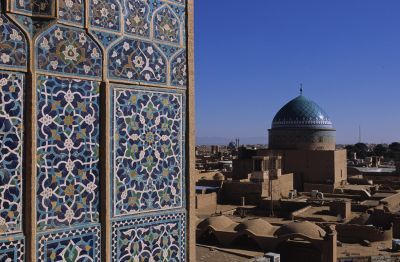 Les récits enflammés des voyageurs de l'Antiquité excitent la curiosité… 9000 ans de civilisation, une histoire fastueuse, une culture des plus raffinées ont, en effet, patiemment façonné ce pays si mal connu, si étrange et fascinant qu'est l'Iran.

De villes impériales en caravansérails, des avenues encombrées de Téhéran aux déserts de sable et de sel, des montagnes du Kurdistan à la place royale d'Ispahan, de Bam à Persépolis, Robert-Emile CANAT nous emmène à la découverte de sites légendaires, de lieux mythiques, à la rencontre de nomades, d'étudiants, d'artistes, de paysans, de chameliers ou d'artisans… de ce peuple dont l'identité et le sens de l'accueil sont exceptionnels. Il nous révèle, ainsi, tout ce qui fait l'originalité de l'âme perse et nous propose un témoignage passionnant sur les réalités de l'Iran d'aujourd'hui.

Séances à 14h30 - 17h30 - 20h00

Billetterie à l'office de tourisme de Laval.
9,80 €

8,80 €

School children / Students

5,50 €

From 58,40 € to 65,40 €
Leave a review about Connaissance Du Monde : La Perse :
Horrible

Bad

Average

Good

Excellent
There is no review about Connaissance Du Monde : La Perse, be the first to leave one !