Coup d'oeuvre(s) // Stani Nitkowski - Local event - Laval
Coup d'oeuvre(s) // Stani Nitkowski
Local event , Exhibition at Laval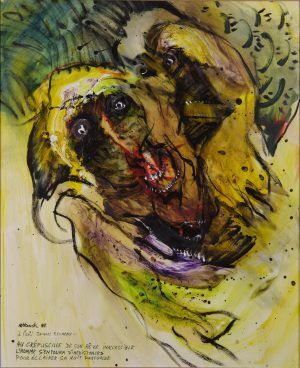 Stani Nitkowski est né en 1949, d'un père polonais et d'une mère française. Il a exercé la profession d'employé de banque, clerc de notaire puis employé d'Emmaüs. Il avait ving-trois ans lorsque sa myopathie lui imposa l'usage d'un fauteuil roulant. Un de ses amis lui offrit alors une boîte de peinture, et ce fut le déclic : il passera sa vie à peindre. Sa rencontre avec l'artiste Robert Tatin provoqua un tournant dans son travail, puisqu'il quitta l'abstraction pour le figuratif. Il fut très vite remarqué par Dubuffet, le premier théoricien de l'Art Brut, et Jean-Marie Drot, qui lui permirent de faire connaître son oeuvre. La galeriste Cérès Franco et l'artiste Hervé Aussant ont également joué un rôle important dans la reconnaissance de son travail. Nitkowski mit fin à ses jours en 2001, peu après la mort de son fils.



La peinture de Nitkowski, selon ses propres termes, n'est pas belle. L'artiste ne voulait pas créer de la beauté : « le beau, c'est ce qui est figé », expliquait-il. Ce que désirait Nitkowski, c'était peindre la vie : une vie bouleversante, furieuse bien souvent, toujours en mouvement.



Dans Au Crépuscule de son rêve inaccessible, les visages sont desapparitions vociférantes aux yeux exorbités. L'enchevêtrement des formes, des couleurs, ajoute à l'hystérie de l'ensemble. Il s'agit d'une peinture pulsionnelle, qui se veut être un coup de poing, une explosion. Toutefois pour Nitkowski, l'art n'était pas qu'un exutoire. Il était sa façon de soulager son intense besoin de communiquer : communiquer ses angoisses, ses obsessions, ses désirs, transmettre sa passion de cette vie qui le meurtrissait autant qu'elle le transportait. Une œuvre révoltée, émouvante, qui ne peut laisser indifférent.
Schedules

On

December 2, 2018

at 15:30
Leave a review about Coup D'oeuvre(S) // Stani Nitkowski :
Horrible

Bad

Average

Good

Excellent
There is no review about Coup D'oeuvre(S) // Stani Nitkowski, be the first to leave one !