Etats d'âmes // chorale Coup d'choeur - Local event - Saint-Berthevin
Etats d'âmes // chorale Coup d'choeur
Local event , Concert at Saint-Berthevin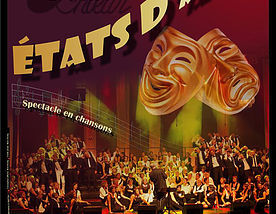 Les choristes dirigés à quatre voix par Rodolphe Péron et son pianiste complice Thomas Fuchez, relatent la couleur des sentiments, le réalisme de la vie, avec des reprises énergiques de Simon et Garfunkel,
Joe Dassin, Zaz, Jean-Jacques Goldman, Jean-Louis Aubert, Johnny…
Pour chaque chanson, un espace différent est créé, sublimé par des lumières et des décors travaillés, accompagnés par des mises en scènes originales.
La troupe chantante se lance un nouveau défi, offrir au public une parenthèse musicale en revisitant les trésors de la chanson, pour une soirée tonique et riche en émotions !

Tout public.
En vente en mairie à partir du 9 avril.
L'Ensemble Coup d'Choeur a vu le jour en 2001 afin de répondre à une demande d'adultes qui souhaitaient interpréter un répertoire de chansons françaises.
Depuis 15 ans, la troupe chantante, regroupant plus de 200 choristes, écume sans relâche les scènes mayennaises et les départements limitrophes pour proposer ses spectacles à un très large public au profit
d'associations caritatives.
Le répertoire reprend des standards de la chanson française, harmonisés à quatre voix et parfois mis en scène. L'enthousiasme est donc communicatif entre des choristes qui prennent plaisir à interpréter
ces chansons et le public qui apprécie ce registre populaire.
Schedules

On

April 26, 2019

at 20:30
Leave a review about Etats D'âmes // Chorale Coup D'choeur :
Horrible

Bad

Average

Good

Excellent
There is no review about Etats D'âmes // Chorale Coup D'choeur, be the first to leave one !