Exposition : Du réel à l'imaginaire - Laval
Exposition : Du réel à l'imaginaire
Cultural , Exhibition , Painting at Laval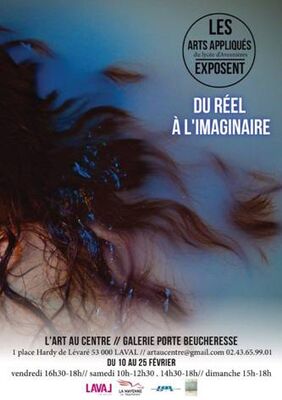 L'association L'art au Centre et sa présidente Isabelle Marchand vous invite à venir découvrir, du réel à l'imaginaire :

Cette exposition collective présente des recherches et des créations produites depuis le début de cette année scolaire par les élèves de la classe de terminale STD2A (Sciences et Technologies du Design et des Arts Appliqués) du lycée d 'Avesnières à Laval.

C'est une formation qui permet ensuite de se spécialiser dans des domaines tels que le design d'espace, le design graphique, le design d'objet, le design de mode ou les métiers d'art et d'excellence, comme la broderie, le tissage, l'ébénisterie, la laque...

Avec Laëtitia Capron, professeur d'arts appliqués, nous avons proposé aux élèves d'organiser leur exposition pour une rencontre inédite avec le public.

Vernissage samedi 10 février à partir de 11h30. (ouverture de la galerie 10h)

exposition du 10 au 25 février 2018, vendredi 16h30 - 18h// samedi 10h-12h . 14h30-18h// dimanche 15h-18h

Les élèves vous accueilleront pendant toute la durée de l'exposition.

Pour l'occasion, la signature visuelle de l'art au Centre change, une nouvelle enseigne a été réalisée avec un travail typographique créé par un groupe de 8 étudiants
en licence professionnelle Mise en Œuvre de Projets Culturels (MOPC) Université du Mans et lycée Victor Hugo de Château-Gontier,

(intervenant, Laurent Vignais)

Le samedi 17 février, journée portes ouvertes au lycée d'Avesnières, la galerie sera ouverte de 10h à 18h.
Leave a review about Exposition : Du Réel À L'imaginaire :
Horrible

Bad

Average

Good

Excellent
There is no review about Exposition : Du Réel À L'imaginaire, be the first to leave one !