Exposition "Jonas en ce jardin" - Local event - Laval
Exposition "Jonas en ce jardin"
Local event , Exhibition at Laval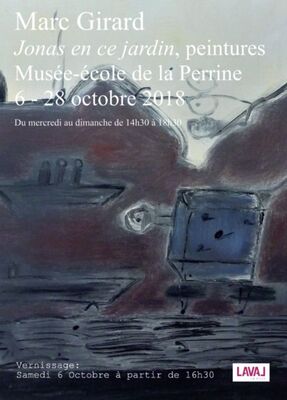 Cette exposition présente quatre aspects de l'oeuvre picturale de Marc Girard, de 1993 à 2018. Outre son caractère rétrospectif, elle se veut une lointaine chambre d'écho au récit biblique du livre Jonas. L'artiste passeur se confronte ici à la légèreté d'inviter les promeneurs d'un jardin à venir regarder ses peintures dans un pavillon attenant.

Chacune des quatre salle du Musée-école propose des oeuvres issues d'une même période dans l'oeuvre du peintre. L'imagerie affichée dévoile au fil du temps des figures récurrentes qui apparaissent au gré de variations imprévisibles. Il y a des rujms, des figures d'un Eden enfoui, des intérieurs au réalisme cru des corps flottés, lévitant.

Ces images procèdent le plus souvent d'un geste d'élucubration graphique guidé par l'exploration du matériau utilisé, et surtout, par l'air ambiant. Une histoire s'esquisse, se devine sans toutefois se laisser définir.

Toute cette imagerie se voudrait la fantasmagorie d'un peintre-jonas dans le ventre d'un Musée-école qui serait pour un temps sa baleine. Qu'auraient à y trouver les promeneurs de ce jardin-océan tout autour qui n'aie toujours été au coeur de la moindre corolle ? Il se le demande.
From

October 6, 2018




until

October 28, 2018
Leave a review about Exposition "jonas En Ce Jardin" :
Horrible

Bad

Average

Good

Excellent
There is no review about Exposition "jonas En Ce Jardin", be the first to leave one !