Exposition : "Nuits étoilées" de Jean-Marc Vivier - Laval
Exposition : "Nuits étoilées" de Jean-Marc Vivier
Exhibition , Contemporary art at Laval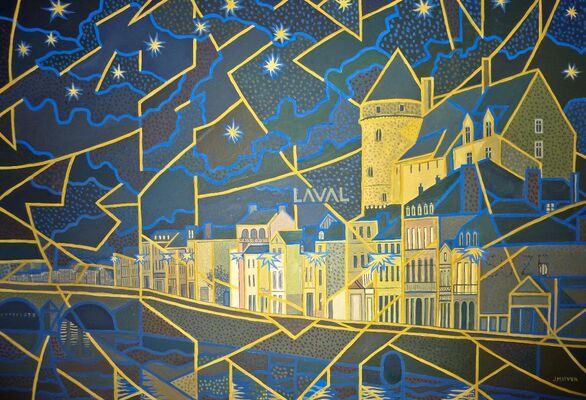 Une peinture figurative, stylisée et délibérément architecturée. Peindre la nuit est un véritable défi car il s'agit, avec des artifices, d'attirer le regard et cela ne peut se réaliser qu'avec la lumière. Peindre le noir est semblable à écouter le silence, à danser sans mouvement. Alors, il faut inventer et styliser la nuit. Dans cette exposition, nous pouvons découvrir quelques astuces dont le peintre fait usage.
En outre, il ne laisse aucune place au hasard ou au « flou artistique ». Rien n'est livré à l'incertitude et à la négligence. Tout est contrôlé par la volonté de l'artiste et se justifie par les exigences de la construction et la mise en relation de tous les éléments du tableau. La moindre parcelle est maîtrisée dans le but de s'approprier des surfaces, des espaces et des temps de vie. De les harmoniser aussi. La construction géométrique, qui n'a rien à voir avec le cubisme, peut surprendre et dérouter. Elle vise, au contraire à offrir équilibre et sérénité. Elle est essentielle et articule le tableau en créant un dynamisme original.
Alors que les lignes droites et brisées structurent l'espace extérieur (matériel) les courbes esquissent l'univers intérieur (sensible) dans une architecture cosmique. La couleur jaune éclate parfois avec une violence étonnante sur un fond obscur. C'est celle de la lumière, puissante et explosive.
Illuminations resplendissant dans la ville, et magnifiant des édifices séculaires, vous exprimez notre joie de vivre. Vous nous conviez, dans une allégresse contagieuse, à envahir rues et places de Laval. Etoiles du ciel, qui veillez sur nous et nous accompagnez, soyez remerciées de votre fidélité. Votre beauté pénétrante nous transporte et nous émeut. Assurément, dans notre monde en tourmente perpétuelle, tout cela est bien dérisoire. Gageons que le spectacle de la nuit étoilée nous fera rêver de paix et de fraternité. Nous en avons tant besoin.
Jean-Marc VIVIER, à travers cette série de peintures, dévoile son univers intérieur, profond et intime, joyeux et passionné, qu'il veut partager avec nous. Il est immense comme le ciel étoilé…
Nul doute qu'en quittant le Perier du Bignon, votre regard se tournera vers le ciel, vers les étoiles… Bonne soirée… bonne nuit étoilée. Merci de votre visite et à bientôt…

Jean-Marc VIVIER est né à Noirmoutier. Dès son plus jeune âge, il a commencé à dessiner et peindre. Avec Lucy Humbert, amie de Picasso, il découvre le monde des couleurs. Etudes régulières et travail intense … Première exposition en 1985 aux Salorges de Noirmoutier. Ensuite, La Rochelle, la Roche-sur-Yon, Rennes, Laval, Nantes, Paris, Séoul...
Pour en savoir plus : www.jeanmarcvivier.com

Sur You Tube :
Nocturnes
Laval en 53 clins d'œil
Petite histoire naïve de Laval
Peinture à cordes
L'Her du large ou balade à Noirmoutier


L'HÔTEL-RESTAURANT SPA PERIER DU BIGNON

présente

« N u i t s é t o i l é e s »

Peintures de Jean-Marc VIVIER

Dédicace des livres :
« Laval en 53 clins d'oeil »
et « La Mayenne en 53 clins d'œil »
www.jeanmarcvivier.com

Du 24 novembre au 26 décembre 2017 (sauf le 25 novembre, le 1er, 6, 7, 8, 13, 14, 19 et 21 décembre). Ouvert de 16 h à 20 h. Entrée libre.
From

November 24, 2017




until

December 26, 2017
Leave a review about Exposition : "nuits Étoilées" De Jean-Marc Vivier :
Horrible

Bad

Average

Good

Excellent
There is no review about Exposition : "nuits Étoilées" De Jean-Marc Vivier, be the first to leave one !