Exposition // Promenons-nous dans le bois - Local event - L' Huisserie
Exposition // Promenons-nous dans le bois
Local event , Exhibition at L' Huisserie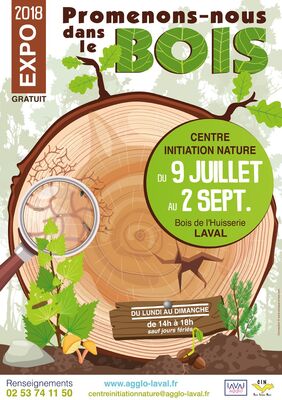 Doit-on couper un arbre pour connaître son âge ? Quel bois utiliser pour fabriquer un objet ? De quoi se nourrit un arbre ? Le bois est-il un bon isolant ?
Trouvez les réponses à ces questions et à bien d'autres, en venant visiter la nouvelle exposition du Centre Initiation à la Nature.
Omniprésents, les arbres sont des êtres à part. Au commencement, une simple graine et pourtant ! L'exposition nous retrace la vie de l'arbre, de sa naissance jusqu'à l'utilisation de son bois au quotidien et nous propose une balade en forêt en nous faisant découvrir sa diversité, sa richesse et sa fragilité.

Réservation pour les groupes le matin.

Et tous les jours, projection du film « Mémoires d'un arbre mort ».
Synopsis :
Un patriarche multi-centenaire domine une forêt naturelle protégée. Une nuit, cet arbre est brisé par une violente tempête. Ce qui pourrait désoler le promeneur mal informé, devient dans ce court métrage de Samuel RUFFIER une ode à la vie. Car le film nous fait découvrir tous les amis de l'arbre mort : les oiseaux, les insectes, les champignons et les plantes qui l'habitent et participent au lent processus de recyclage de son bois et au maintien de près de 30% des espèces vivant dans une forêt naturelle. Une extraordinaire biodiversité à tous les étages ! Durée : 17 mn.
From

July 9, 2018




until

September 2, 2018
Leave a review about Exposition // Promenons-Nous Dans Le Bois :
Horrible

Bad

Average

Good

Excellent
There is no review about Exposition // Promenons-Nous Dans Le Bois, be the first to leave one !