G la Brique #4 : Expo 100% Lego - Saint-Berthevin
G la Brique #4 : Expo 100% Lego
Exhibition at Saint-Berthevin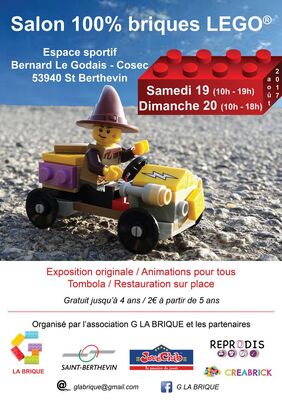 Expos / Animations / Tombola…
10h/19h : SAMEDI 19 AOÛT
10h/18h : DIMANCHE 20 AOÛT

Après le succès des précédentes éditions, le salon G la brique revient les samedi 19 août et dimanche 20 août prochains à St Berthevin, espace sportif Bernard Le Godais (ancien Cosec).
Des milliers de briques de Lego seront exposées (Lego city, Friends, Ninjago, Star Wars, Lego technic, Disney…) dont certaines pour la première fois. Des animations seront également proposées à toute la famille : des parcours de voitures construites en Lego technic, un jeu concours pour gagner de nombreux lots Lego, des mosaïques à créer, un espace de construction pour les tous petits (nouveauté) … et bien d'autres surprises !
Ce salon se veut familial et convivial pour le plaisir des tous.

L'association G la brique recherche des bénévoles pour la mise en place des salles le vendredi 18 août dans la journée et le soir. Si vous êtes disponible, contactez les à glabrique@gmail.com ou sur leur page Facebook « G la brique ».
Schedules

On

August 19, 2017

from 10:00 at 19:00

On

August 20, 2017

from 10:00 at 18:00
Leave a review about G La Brique #4 : Expo 100% Lego :
Horrible

Bad

Average

Good

Excellent
There is no review about G La Brique #4 : Expo 100% Lego, be the first to leave one !