Javotte et Anastasie // spectacle - Local event - Laval
Javotte et Anastasie // spectacle
Local event , For children at Laval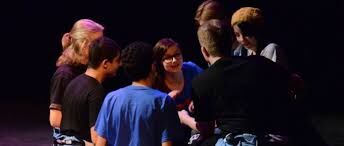 Ce spectacle est proposé dans le cadre du projet intergénérationnel « Cendrillon » de Joël Pommerat,
création artistique dirigée par la Cie Art Zygote et Le Théâtre d'Air sur le quartier de Saint-Nicolas.
Élaboré pendant deux ans, il réunit et implique les habitants du quartier de milieu, de culture, d'origine, d'âge différents dans une grande mixité sociale et culturelle pour créer le spectacle « Cendrillon » dans des conditions professionnelles.
La lecture théâtralisée de « Javotte et Anastasie » s'inscrit dans ce projet et nous fait découvrir le
texte de Pierre Koestel. Par Anima Cie

Cette farce tragi-comique contemporaine interroge les mécanismes et ressorts des phénomènes de
harcèlement et de maltraitance entre adolescents à travers l'histoire familiale et le sort des deux soeurs de « Cendrillon ». Une proposition pour adolescents et adultes.

Auteur : Pierre Koestel
Comédiennes : Jeanne Michel et Lucie Raimbault.
À partir de : 12 ans
Durée : 55 minutes

L'entrée est libre et gratuite dans la limite des places disponibles.
Réservation obligatoire au 02 43 49 47 69.
Nous vous garantissons votre réservation jusqu'à 5 minutes avant le spectacle.
En cas de retard, l'entrée dans la salle n'est plus garantie.
Schedules

On

December 8, 2018

at 17:00
Leave a review about Javotte Et Anastasie // Spectacle :
Horrible

Bad

Average

Good

Excellent
There is no review about Javotte Et Anastasie // Spectacle, be the first to leave one !