L'empereur c'est moi ! // Cie Dodeka - Local event - Saint-Berthevin
L'empereur c'est moi ! // Cie Dodeka
Local event , Show at Saint-Berthevin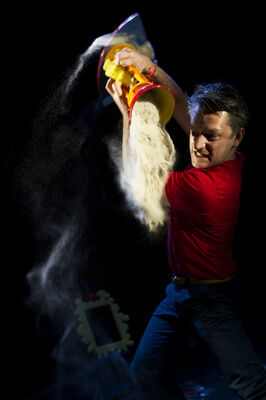 Hugo a 4 ans : il refuse de parler, il s'appelle Julien, il est fasciné par tout ce qui tourne et conçoit un plan magistral pour revenir dans le ventre de sa mère. Hugo a 6 ans : il enterre Julien et décide de sortir de son isolement : il parle. Hugo a 12 ans : après un ultime combat contre ses camarades, Hugo choisit de vivre, envers et contre tout. Mêlant l'imaginaire aux souvenirs d'un enfant autiste, Hugo raconte sa
souffrance d'être différent, son refus de parler, son désir d'être un autre jusqu'à vouloir changer son nom.
« L'empereur c'est moi ! » est une magnifique déclaration d'amour d'un fils à sa mère. C'est une révolte contre l'enfermement et contre l'exclusion, et un implacable miroir de nos préjugés.
Ce spectacle est un tête à tête avec le public. C'est une prise de contact souvent drôle, corrosive et jouissive, faite de provocations, de coups de colère, d'incompréhension, d'un appel à l'affection. C'est un seul en scène, traversé par des voix, des sons et des cris. Un seul en scène où l'on devine la présence permanente d'une mère à l'écoute du silence.

Hugo Horiot
Écrivain, comédien et militant pour la dignité des personnes autistes. L'auteur, aujourd'hui comédien, a réussi à quitter la prison de ses rêves pour en faire une oeuvre. Un récit exceptionnel dans lequel il donne les clés de son comportement.

Tout public
En vente en mairie à partir du 26 mars.
Schedules

On

April 12, 2019

from 20:30 to 22:05
Leave a review about L'empereur C'est Moi ! // Cie Dodeka :
Horrible

Bad

Average

Good

Excellent
There is no review about L'empereur C'est Moi ! // Cie Dodeka, be the first to leave one !