L'OR DU COMMUN + CHEEKO #6par4 - Laval
L'OR DU COMMUN + CHEEKO #6par4
Today's music (rock, pop, rap) , Cultural , Concert at Laval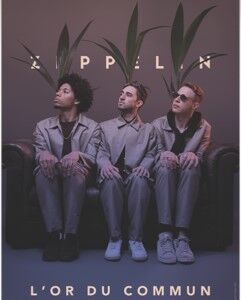 L'Or du Commun
Belgique - Hip-hop

En provenance de Bruxelles, l'Or du Commun affole depuis quelque mois la sphère internet à travers des clips léchés et des titres à l'énergie coup de poing et au groove communicatif. Si les trois MC's du groupe, Swing, Primero et Loxley, étaient encore il y a peu inconnus en hexagone, leur clip « Apollo » en featuring avec Roméo Elvis les a définitivement propulsés en pleine lumière. Entre esprit chill, productions vaporeuses et synthétiques, voir jazz et plus 90's, l'Or du Commun a trouvé sa marque de fabrique, et prouve s'il le fallait encore, à la suite des Caballero, Jeanjass, Roméo Elvis ou Hamza, que le hip-hop Belge a définitivement voix au chapitre dans la grande assemblée du rap international.

Cheeko
France - Rap

Il est un rap français qui ne se cantonne pas à dénoncer, râler ou se la péter. Un rap qui fait marrer et gamberger, un rap qui parle des petites choses de la vie, des grandes (et des grosses) aussi.

CHEEKO, 28 ans et toutes ses dents, revient en solo dans vos tympans avec humour, justesse et poésie. Il vous invite à prendre place sur son tapis volant pour un merveilleux voyage en terre inconnue. Quelques punchlines bien a utées, des souvenirs en photos, quelques voisins bien relous, des parenthèses sombres, des histoires d'amour foirées ou torrides… Bref tout ce qu'il faut pour ne pas s'ennuyer et se dire que le rap n'était pas mieux avant.
Leave a review about L'Or Du Commun + Cheeko #6Par4 :
Horrible

Bad

Average

Good

Excellent
There is no review about L'Or Du Commun + Cheeko #6Par4, be the first to leave one !