Onze "A Table"
Show at Changé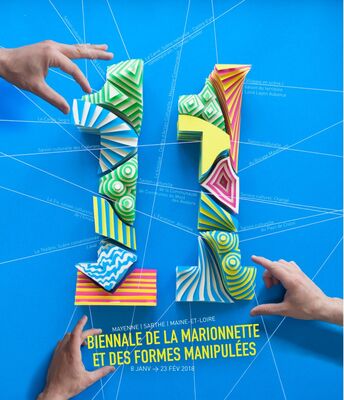 Vendredi 19 janvier
Marionnettes - 20h30 - Ondines
Durée : 3 formes de 30 mn chacune
Tout public à partir de 11 ans
Placement libre, spectacle assis
www.festival11.fr
Tarifs : Réservation 16,10€ / -16 ans 7,50€

« Onze », biennale de la marionnette et des formes manipulées portées par 13 structures de la Mayenne, la Sarthe et le Maine et Loire
« A table », soirée associant des propositions culinaires et des créations théâtrales toutes fraîches.

Compagnie Gare Centrale (Bruxelles)
Agnès Limbos
"Help !" (titre provisoire)
Dans une ambiance de dernier concert avant le naufrage, Agnès Limbos questionne l'utopie et la rapproche d'une bouée de sauvetage. Très influencée par le Titanic, l'artiste belge poursuit son travail autour de l'objet dans un registre tragi-comique, toujours très subtil mais efficace.

COLLECTIF AÏE AÏE AÏE (RENNES)
Julien Mellano
« Ersatz »
Julien Mellano nous propose une projection librement fantasmée de l'homme de demain : un être augmenté, ultra-connecté, englué dans son égocentrisme et sa propre éternité, perturbé par une intelligence artificielle légèrement capricieuse. Seul en scène, il s'appuie sur l'usage d'objets manipulés, détournés et inventés et sur une franche implication du corps.

COLLECTIF LABEL BRUT
(CHÂTEAU-GONTIER)
Laurent Fraunié, Harry Holtzman,
Babette Masson
« Menu Brut #1 » (titre provisoire)
Les trois artistes du collectif Label Brut présentent le premier volet de leur Menu Brut, série de trois farces culinaires un peu trash. Au travers d'une lignée de femmes à l'époque du Flower Power, ils enquêtent sur l'effritement des idéaux et posent leurs regards sur l'évolution des grandes utopies. La particularité de cette fable, c'est que les personnages sont des aliments détournés, moulinés, mixés, fouettés, poivrés.

Documentation
Schedules

On

January 19, 2018

from 20:30 at 22:00
Leave a review about Onze "a Table" :
Horrible

Bad

Average

Good

Excellent
There is no review about Onze "a Table", be the first to leave one !