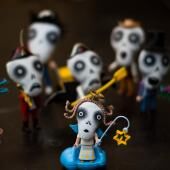 D'un côté : Drolatic industry, compagnie travaillant autour de la marionnette et des objets animés. Leur nouvelle installation, Playmorbides, d'après La mastication des morts de Patrick Kermann, détourne des jouets anciens ou plus contemporains pour leur redonner vie, grâce à différents dispositifs sonores et lumineux, techniques d'animation, manipulation...

De l'autre : l'Adapei53, association qui œuvre en Mayenne pour l'insertion et l'autonomie des personnes en situation de handicap mental.

Les deux structures ont noué il y a plus d'un an un partenariat autour d'ateliers de confection de marionnettes impliquant des personnes accompagnées et leurs encadrants provenant d'une vingtaine d'établissements d'accueil du département de la Mayenne. Le fruit de ces ateliers, regroupant différentes techniques et formes de marionnettes (marionnettes par moulages, marionnettes d'ombres chinoises, marionnettes en tissus...), sera exposé à la fois au Musée d'Art Naïf et des Arts Singuliers et au Théâtre de Laval, en parallèle de la dernière création de Drolatic Industry, Playmorbides.

Gratuit
Leave a review about Playmorbide :
Horrible

Bad

Average

Good

Excellent
There is no review about Playmorbide, be the first to leave one !