Quest'handi bouscule les arts - Changé
Quest'handi bouscule les arts
Local event at Changé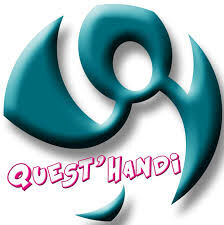 Depuis 2008, l'association Quest'Handi agit pour rendre les événements culturels (concerts, festivals, séances de cinéma, compétitions sportives...) accessibles aux personnes en situation de handicap, en Mayenne mais aussi dans les Pays de la Loire et dans d'autres régions.
En partenariat avec des acteurs majeurs de la culture, nous proposerons :
- une pièce de théâtre traduite en langue des signes et audiodécrite,
- une conférence menée par un historien sourd (avec interprétation en français),
- une séance de cinéma (avec sous-titres, audiodescription, lumière tamisée...),
- un ciné-débat à la bibliothèque sur le thème de l'autisme,
- un village associatif pour présenter différentes associations, structures... en lien avec le handicap en Mayenne,
- des visites accessibles...
et surtout une soirée de concerts accessible à tous avec Cabadzi, Les passagers du Gawenn, Woodee... !
Leave a review about Quest'handi Bouscule Les Arts :
Horrible

Bad

Average

Good

Excellent
There is no review about Quest'handi Bouscule Les Arts, be the first to leave one !