Qui va là ? // Théâtre d'air - Local event - Saint-Berthevin
Qui va là ? // Théâtre d'air
Local event , Show at Saint-Berthevin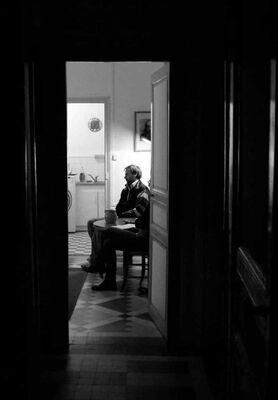 « Je passais juste devant, je me suis dit « Je vais demander, hein, juste jeter un oeil... ». Il s'installe une petite heure sans agressivité tout en douceur dans une considération permanente des habitants présents de l'appartement. Se fait à manger, se lave et se raconte. La langue est simple, pure, adressée. « C'est étrange. Je reconnais et en même temps, c'est différent. Vous avez changé quelque chose ? ».
Au fur et à mesure du récit, nous comprenons qu'il est seul, sans domicile fixe, qu'il erre de hall de gare en hall de gare avec un sac, une boîte dans un sac (les cendres de sa mère) et ses souvenirs. C'est son passé qui le tient. Or, un peu plus loin dans le récit, il brouille les pistes. Les choses ne se seraient pas réellement passées comme ça. Il ne sait plus lui-même.

Un spectacle dans un salon.
Vous n'êtes pas dans le noir, invisible. Vous recevez le spectacle dans une grande intimité et une grande complicité. La proximité créée par cet espace partagé entre le comédien et les spectateurs déplace la façon de recevoir ce texte. Une expérience insolite sur un très beau texte d'Emmanuel Darley.

Laurent Menez
Comédien et metteur en scène, il se consacre au théâtre depuis 1996. Depuis son arrivée en Mayenne, il joue dans les spectacles mis en scène par Virginie Fouchault. En 2015, il rejoint le Théâtre d'Air en tant que collaborateur artistique et chargé de la diffusion. Parallèlement, il poursuit ses recherches autour de la lecture avec la Compagnie Udre-Olik fondée à Rennes par Philippe Languille qu'il met en scène dans « Somnambule » d'Achille Grimaud en 2016. Par ailleurs, il défend la transmission du théâtre en intervenant régulièrement auprès des élèves de spécialité théâtre du lycée Douanier Rousseau à Laval.

A partir de 12 ans.
Schedules

From

September 23, 2018

until

September 24, 2018
Leave a review about Qui Va Là ? // Théâtre D'air :
Horrible

Bad

Average

Good

Excellent
There is no review about Qui Va Là ? // Théâtre D'air, be the first to leave one !