ROLLER DISCO Boum sur roulettes #6par4 - Laval
ROLLER DISCO Boum sur roulettes #6par4
Today's music (rock, pop, rap) , Sports and recreation at Laval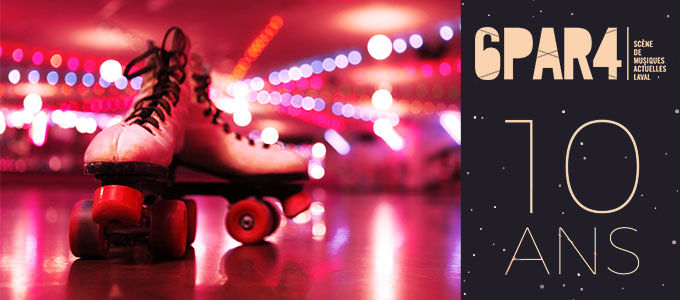 ROLLER DISCO
Boum sur roulettes

En partenariat avec l'association CAB Roller de Laval, le 6PAR4 s'exporte hors les murs pour une boum XXL sur roulettes ! Prenez une salle po comme arène de jeu, ajoutez un duo qui retourne les dancefloors à coup de bombinettes synth-pop et italo-disco et des patineurs qui chaloupent sous la boule à facettes : c'est parti pour un méchant revival des soirées roller disco en vogue à la fin des années 70 en pleine folie pattes d'eph' et cols pelle à tarte. Un grand bal rétrofuturiste à paillettes qui sera dynamité par le dj-set de The Venus Project (Novorama/Soukmachines), et le live du groupe parisien Ambeyance dans leur cockpit de synthétiseurs vintage et d'effets laser. Sunday afternoon fever à Laval !

Le CAB ROLLER a été crée en 1978, à compte à ce jour 70 licenciés qui se répartissent en trois activités. Le patinage artistique qui a beaucoup de succès et qui compte 50 licenciés, le roller hockey 20 licenciés qui pratiquent essentiellement en loisir et le dimanche loisirs qui compte environ 150 adhérents non licenciés.
Schedules

On

February 18, 2018

from 15:00 at 18:00
Leave a review about Roller Disco Boum Sur Roulettes #6Par4 :
Horrible

Bad

Average

Good

Excellent
There is no review about Roller Disco Boum Sur Roulettes #6Par4, be the first to leave one !