Théâtre d'Objets : A table ! - Loiron
Théâtre d'Objets : A table !
Local event , For children , Show , Theatre at Loiron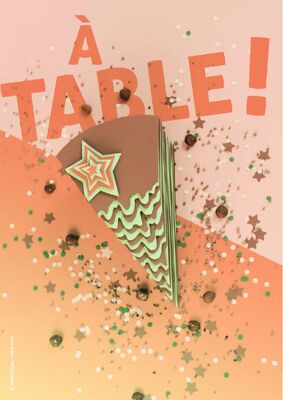 A Table ! - Théâtre d'objets - Création
Dans le cadre du festival ONZE, Biennale de la Marionnette et des Formes Manipulées.
Vendredi 23 février
19h30
Spectacles + repas

• durée : 2h30 (spectacles et entractes gustatifs)
• tout public dès 11 ans
• tarifs : plein 12 € / groupe 10 € /
abonné et réduit 8 € / enfant 6 €
+ repas 5€ (obligatoire, à régler sur place)

À l'invitation du festival ONZE, 3 compagnies créent chacune un spectacle court :

Help ! (titre provisoire)
Compagnie Gare Centrale / Agnès Limbos
Dans une ambiance de dernier concert avant le naufrage, Agnès Limbos questionne l'utopie et la rapproche d'une bouée de sauvetage. Très influencée par le Titanic, l'artiste belge poursuit son travail autour de l'objet dans un registre tragi-comique, toujours très subtil et efficace !
De et par : Agnès L imbos / Au piano : Joachim Caffonnette (compositions originales) / création lumière : Nicolas Thill
www.garecentrale.be

Ersatz
Collectif Aïe Aïe Aïe / J ulien Mellano
Ersatz ou l'homme de demain ! Un être augmenté, ultra-connecté… Fort de bricolages retors et d'effets spéciaux de poche, Julien Mellano nous amène à voir un futur qui nous réserve le pire… comme le meilleur
Conception et interprétation : Julien Mellano / Regard extérieur : Etienne Manceau / Lumières : Sébastien Thomas
www.aieaieaie.fr

Menu Brut #1 (titre provisoire)
Collectif L abel Brut / L aurent Fraunié,
Harry Holtzman, Babette Masson
Au travers d'une lignée de femmes à l'époque du Flower Power, les 3 artistes enquêtent sur l'effritement des idéaux et posent leurs regards sur l'évolution des grandes utopies. Les personnages sont des aliments détournés, moulinés, mixés, fouettés ou encore… poivrés !
Conception et interprétation : Laurent Fraunié, Harry Holtzman et Babette Masson / co-écriture et regard extérieur : Solenn Jarniou
www.labelbrut.fr

Documentation
Leave a review about Théâtre D'objets : A Table ! :
Horrible

Bad

Average

Good

Excellent
There is no review about Théâtre D'objets : A Table !, be the first to leave one !