Théo Ceccaldi et Ana Carla Maza - Local event - Saint-Berthevin
Théo Ceccaldi et Ana Carla Maza
Local event , Concert at Saint-Berthevin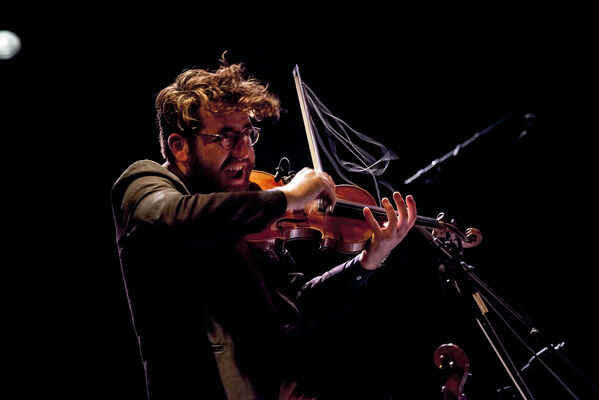 Élu « Révélation française de l'année 2014 » par Jazz Magazine, puis « Musicien français de l'année 2016 », Théo Ceccaldi s'impose aujourd'hui avec sa Victoire du Jazz 2017 « Révélation de l'année » comme l'une des voix les plus singulières de la nouvelle scène jazz européenne.
Le critique Michel Contat dans Télérama a écrit « Théo Ceccaldi joue du violon avec une maestria qui renouvelle ce dont on croyait capable l'instrument ».

Ce 32ème Régional Tour a donc été spécialement conçu pour profiter de sa fulgurante envie de rencontres et de musiques. 12 concerts, 12 lieux sur 5 départements. Un programme époustouflant à la mesure de son envie d'aventures musicales mais aussi de cette volonté rafraichissante
de rencontrer tous les publics possibles.

A l'âge de 10 ans, Ana Carla Maza réalise ses débuts au Festival Jazz Plaza à La Havane avec son célèbre père Carlos Maza.
Rayonnante, elle fait corps avec le violoncelle dont elle explore la sonorité avec virtuosité. Sensuelle, la musicienne déploie une gamme de couleurs et de sensations alternant caresses et tempêtes.
Pour jouer dans ce nouveau lieu qu'est le Pôle Culturel, il fallait évidemment une belle rencontre, dans l'esprit « acoustique », autour des cordes et des voix. Le choix de la superbe violoncelliste et chanteuse
cubaine s'imposait naturellement.
Ce duo inédit sera sans doute l'un des moments privilégiés de Régional tour.

Tout public.
En vente en Mairie à partir du 26 février.
Schedules

On

March 15, 2019

at 20:30
Leave a review about Théo Ceccaldi Et Ana Carla Maza :
Horrible

Bad

Average

Good

Excellent
There is no review about Théo Ceccaldi Et Ana Carla Maza, be the first to leave one !