Vendège présente "Do" Jeune public - Bonchamp-lès-Laval
Vendège présente "Do" Jeune public
at Bonchamp-lès-Laval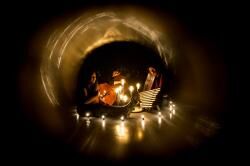 Le voyage a plusieurs visages propices au laisser aller des spectateurs, à leur repos, ou au vagabondage de leurs idées. Le concert laisse entrevoir d'immenses paysages multicolores ou de minuscules personnages semblent danser, au loin, et ou ce qui semblent être des enfants chantent en chœur.

Les musiciens enregistrent les bruits ambiants de la salle (si des enfants font du bruit, par exemple, ils seront enregistrés et utilisés dans la musique en direct), rendant unique et ludique la représentation alors même que la performance est solide et très écrite dans son ensemble.

Les sonorités acoustiques sont plutôt cristallines et boisées.

Les percussions douces, métalliques ou de bois (xylophones, glockenspiels, steel drums, pianos à pouce africains, cloches) s'alternent aux cordes des violons/ violoncelles et aux vibrations de la shruti box (similaire à l'harmonium indien), ou des bols tibétains. Les boites à rythmes/ mini synthés samplers saupoudrent le set de tout petits glitchs électroniques.

Jeune public à partir de 5 ans.
Placement libre assis.
Schedules

On

March 20, 2019

from 17:00 to 17:40
Leave a review about Vendège Présente "do" Jeune Public :
Horrible

Bad

Average

Good

Excellent
There is no review about Vendège Présente "do" Jeune Public, be the first to leave one !