LE BISTRONOMIQUE - Gourmet cuisine - Laval
LE BISTRONOMIQUE
Gourmet cuisine
at Laval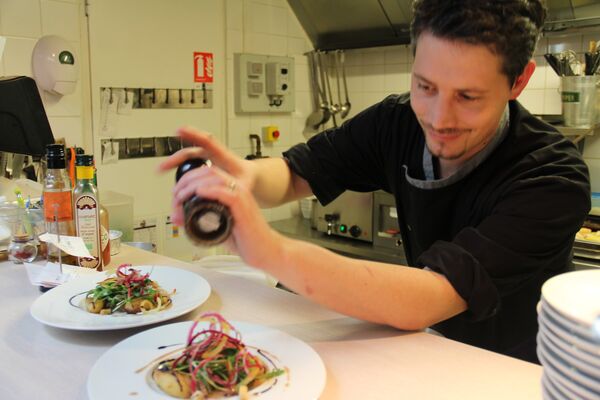 Laval Tourisme
Le Bistronique bills itself as "a bistro-sized gourmet restaurant". In a refined modern setting with a terrace, the chefs prepare sophisticated starters, main courses and desserts before diners' very eyes, creating a sociable atmosphere.

Only local produce is used, and the imaginative cgefs write a new menu every month. About the chefs: Alban Bodinier and Nicolas Boisramé. After studying at Laval hotel school, Alban Bodinier spent seven years in Paris working at a series of prestigious restaurants.
Nicolas Boisramé spent a decade in catering in the Paris area. Despite having started out on a completely unrelated career path, he worked at some of Paris's top fine dining venues, including Ladurée and Le Fouquet's. The two friends then decided to reconnect with their Mayenne roots and help develop the local economy by opening a restaurant together.
Leave a review about Le Bistronomique :
Bad

Average

Good

Very good

Excellent
À refaire !

J'ai été là l'année passée et me suis senti excellent. Je reviendrai enchantée quand je revendrai Laval.

L'un des meilleurs de Laval

Très bon restaurant. Une cuisine de grande qualité avec des produits de saisons. Une cuisine non prétentieuse mais moderne. Nous y sommes aller trois fois et y retourneront encore. A chaque, c'est un émerveillement. Je le recommande vivement.